........................................................


| | | |
| --- | --- | --- |
| | Find out what our clients have to say about us. Click here to read some testimonials... | |
........................................................


Our office has over 20 years of exclusive experience in immigration and international law, allowing us to serve many international companies and individual interests.

Our staff is fluent in Serbo-Croatian, Macedonian, Russian and Italian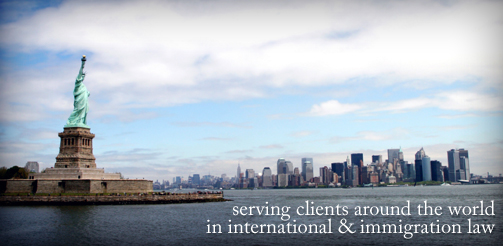 Our Services / Recent Cases

Whether you are applying for a visa, work permit, green card, citizenship, or just starting the immigration process, our team of highly-skilled attorneys will be beside you every step of the way. We service clients in Florida (Jacksonville, Ponte Vedra, and St. Augustine areas) and Ohio, Pennsylvania, and West Virginia (Athens, Zanesville, St. Clairsville, Parkersburg, and Wheeling areas).

Learn about the types of cases we've recently represented

Who Can We Help?
We provide expert legal advice about United States immigration law and legal representation to a wide range of clients seeking entry to the United States. Our clients include businesses and individuals scattered around the world. We serve:
• Professional workers
• Individuals and Families
• Investors and Entrepreneurs
• Students and Professors
• Foreign or domestic businesses seeking to place employees in the U.S.
• Foreign or domestic businesses seeking to open foreign subsidiaries
• Family members of current U.S. residents
• Diversity lottery recipients
• Religious workers
• Refugees and those seeking political asylum

What We Do
Our firm focuses on all business and family-based immigration matters including:
• Family, Marriage & Fiancé Visas, Green Cards
• Employment/Work Visas (H-1B, TN, L, E) & Labor Certifications
• Student Visas and OPT Issues
• Military Transfers & Deployment Issues
• Investor Visas, Business Employee Transferees from abroad
• US Passports & Citizenship Applications

We offer help with all your immigrant or non-immigrant visa needs.


Recent Cases

Clients
Represented clients include the Mayo Clinic, Jacksonville University, Flagler College, several regional universities, and the US Navy.

General
Our attorneys serve as the national liaisons to the Jacksonville USCIS Office. As such, they are very familiar with the local USCIS procedures and officers. Our immigration practice is broad and covers family-based petitions, employment-based petitions, visa applications, green card applications, naturalization & citizenship.

Complex
Our firm has established a reputation for handling complex immigration cases. We have been very successful in obtaining results on appeal with the Immigration Service (especially in complex 485 and 751 green card cases/naturalization denials/employment-based green cards).

International Representation
Our s are able to provide representation before federal departments & agencies, such as the Department of Labor (DOL), Immigrations & Customs Enforcement (ICE), and Department of State (DOS). Our clients are often processing their visas through an Embassy abroad, and we are able to handle these cases with ease due to our highly-electronic practice. Additionally, the firm has successfully litigated cases before the Immigration Court located in Orlando, Florida.

Specialty Areas
Our firm has developed several specialty niches in the education, healthcare and military sectors. Represented clients include several of the regional universities and colleges, the Mayo Clinic, and the US Navy.