........................................................


| | | |
| --- | --- | --- |
| | Find out what our clients have to say about us. Click here to read some testimonials... | |
........................................................


Our office has over 20 years of exclusive experience in immigration and international law, allowing us to serve many international companies and individual interests.

Our staff is fluent in Serbo-Croatian, Macedonian, Russian and Italian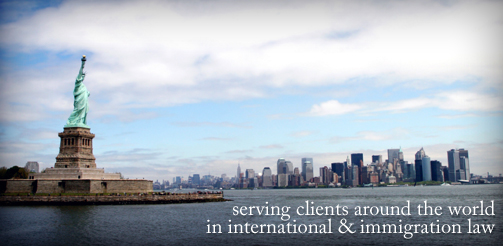 About Our Firm
Immigration Lawyers serving Northeast Florida
Also serving the St. Augustine area
The Law Offices of Kendra L. Bunn is a national law firm with an outstanding reputation and established 20-year history in immigration law. Our clients include many individuals and corporations across the East Coast and Midwest, including international corporations with overseas offices.


Main Offices - Jacksonville, Florida:

Our Jacksonville office is one of the oldest and largest immigration firms in Jacksonville with 3 full-time practicing attorneys and supporting staff. The firm has staff fluent in the Italian and Serbo-Croatian languages and is expanding in its capacity to offer multi-lingual services to the community. Our Florida office serves all residents in Northern Florida, including the panhandle and into southern Georgia.
Ohio Offices - Marietta, Ohio:
We are proud to also offer immigration services in Southeastern Ohio with the opening of offices in Marietta, Ohio in 2008. Ms. Bunn is the only immigration attorney in this area of the state of Ohio. Our Ohio office serves all residents in the Parkersburg, Wheeling and Charleston, West Virginia areas and Athens, Cambridge, Zanesville and St. Clairsville, Ohio areas.
Please call us or email us to schedule an appointment at these new offices.